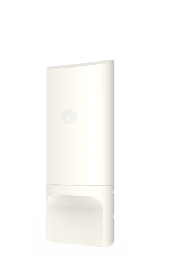 Блок питания PoE не входит в комплект поставки устройства и приобретается отдельно.
Cambium XV2-2T1 Wi-Fi 6 Outdoor AP 802.11ax
• 2.5 GbE Uplink Ethernet
• 1 GbE with power out
• Outdoor IP67 rated, -40ºC to 65ºC
сnPilotXirrus XV2-2T1 Outdoor Access Point является двухдиапазонной 2.4 и 5 ГГц Wi-Fi Outdoor точкой доступа класса Enterprise стандарта 802.11ax ( Wi–Fi 6), предназначена для построения уличных WiFi сетей HotSpot, сетей доступа Fixed Wi-Fi 6, Outdoor корпоративных Wi-Fi сетей.
Точка доступа базируется чипсете новейшего стандарта 802.11ax c поддержкой доступа OFDMA, UL/DL MU-MIMO 2x2
XV2-2T1 поддерживает:
выходную мощность передатчика до 27 dBm, что вместе с встроенной секторной антенной с усилением 14 dBi в 5 GHz/10 dBi в 2.4 GHz обеспечивает высокую дальность (до 1+ км ) и скорость (до 940 Mbps) обслуживания абонентов
обслуживание до 512клиентов (associated users) с функцией Band steering перевода dual band клиента с 2.4 ГГц в 5 ГГц
защищенную аутентификацию WPA3, WPA2 (CCMP, AES, 802.11i), WPA2 Enterprise (802.1x/EAP), WPA PSK (TKIP)
функциональность Hotspot Captive Portal
стандартный 802.11 бесшовный роуминг: Opportunistic Key Caching (OKC), 802.11r/k/v без использования внешнего контроллера
взаимодействие с сетями мобильного доступа 3/4G Offload по стандарту Passpoint0 ( HotSpot 2.0)
Multi-Hop mesh, Airtime Fairness и другую функциональность AP премиального сегмента
мониторинг и управление управление сетью (NMS) через облачный Cloud или корпоративный (on –Premises) контроллер доступа cnMaestro.

Спецификации XV2-2T1

Radio

5 GHz 802.11 a/n/ac Wave 2/ax, 2x2

2.4 GHz 802.11 b/g/n/ax, 2x2

BLE 4.1

Cтандарт

IEEE 802.11 a/ac/ax/b/d/e/g/h/i/k/n/r/u/v

OFDMA, UL/DL MU-MIMO

16/64/256/1024-QAM,

Каналы 20/40/80 MHz

TWT, Long OFDM Symbol, Transmit beamforming, Airtime Fairness, AMSDU, AMPDU, RIFS, STBC, LDPC, MIMO Power Save, MRC, BPSK, QPSK, CCK, DSSS, OFDM, OFDMA, UL/DL MU-MIMO

Усиление антенны

5GHz 14 dBi

2.4GHz 10 dBi

Диаграмма направленности антенны

120 град

Максимальная мощность передатчика

27 dBm

Максимальное количество абонентов (associated users)

512

Max Data rates

5 GHz radio 1,201 Mbps

2.4 GHz radio 573.5Mbps

RF management

Multimodal RF optimization supporting AutoCell

Out-of-band RF spectrum analysis

Radio self test network assurance

RF monitor with chn/noise/interference

Data rate pruning and minimum data rates

LTE Filter
Band 38 ( 2.3GHz), 40 (2.5 GHz)

Band steering,

Load balance

Steers 2.4 GHz to 5GHz,

RRM (Radio Resource Management)

Wi-Fi Meshing

802.11 Multi-Hop mesh

Channel Selection

Multimodal channel selection with AutoChannel and AutoBand

Granular control of off-channel scan and channel selection

Network and RF Management Tools

Wired and wireles remote packet capture, auto logging, ZapD performance tool, rogue AP detection

Network

Deployment

· Stand-­alone operation w/o Controller

· Cloud Managed Controller cnMaestro

· On-premise controller (NOC)

SSID ( WLAN)

16

QoS

WNM

Client traffic management

· Rate limit UL and DL per-client, per-WLAN

· Scheduled WLAN access (time-based SSID)

· Access Control Lists (IP and MAC based ACL)

· DNS based Access Control ( whitelist, blacklist)

Guest Access

· Captive portal splash pages

· EasyPass guest self-registration

· Guest Ambassador

· ePSK

· Vouchers

· Client isolation per SSID, per network

Services
NTP, Syslog, SNMP traps, DNS proxy

Networking

L2TPv2, L2oGRE, PPPoE tunnel

· LACP (802.3ad) ,TCP connection log, NAT logging firewall,

· DHCP server,

· L2, L3 or DNS based access control,

· VLAN Pooling, RADIUS attribute VID ,

· VLAN per SSID per user

Hotspot Captive Portal

Hosted on cnMaestro or hosted on site

· AP Redirect to HTTP/RADIUS external portal/authentication

· Active Directory integration, Google, Facebook,

· Office 365 integration Data rate, time duration,

· data throughput limit

· Server DNS logging, Hotspot 2.0/Passpoint 2.0

· Credit Card Merchant billing, ePSK, Vouchers

Controller less Fast Roaming

802.11r, OKC, Enhanced roaming

Authentication

WPA3, WPA2 (CCMP, AES, 802.11i), WPA2 Enterprise (802.1x/EAP), WPA PSK (TKIP), Open

802.1x EAP-SIM/AKA, EAP-PEAP, EAP-TTLS, EAP-TLS MAC authentication to local database or external RADIUS

Accounting

RADIUS accounting, load balancing AAA servers, Dynamic Authorization COA, DM

Management

· NMS cnMaestro Cloud, On-premises (NOC)

· CLI Telnet and SSH

· GUI (http, https)

· SNMP v2c, v3 based monitoring

Корпус и питание

Ethernet

1 x IEEE 100/1000/2500 Mbps

1 x IEEE 10/100/1000 Mbps Ethernet with SW configurable passive PoE output of 30V or 48V up to 30 Watts

Потребляемая мощность, max

20W max Up to 50W when powering an auxiliary device

Питание

802.3at powered device

Размеры

582 mm x 200 mm x 80 mm

Вес

1.2 kg

Устройство XV2-2T1 имеет специальный для Outdoor AP дизайн секторной антенны с усилением 14 dBi в 5 GHz, 10 dBi 2.4 GHz c большим углом диаграммы направленности (ДН) по углу места и отсутствием провалов (null) в ДН антенны, что обеспечивает высокую энергетику подключения и скорость доступа ближних и дальних клиентов.
Загрузить datasheet XV2-2T1.